6

. Converting your ebook specification to a number of output formats
Converting your ebook specification to a number of output formats is done by using the entries of submenu Ebook > Convert Document. However, before attempting to use any of these menu entries
Make sure to save your ebook specification to disk.
You may want to check the cross-references of the ebook you'll generate using Ebook > Check Ebook.
The content of the ebook you'll generate may be customized the usual ways, for example by specifying a number of XSLT stylesheet parameters. These XSLT stylesheet parameters are all documented in "XMLmind Ebook Compiler Manual, XSLT stylesheets parameters".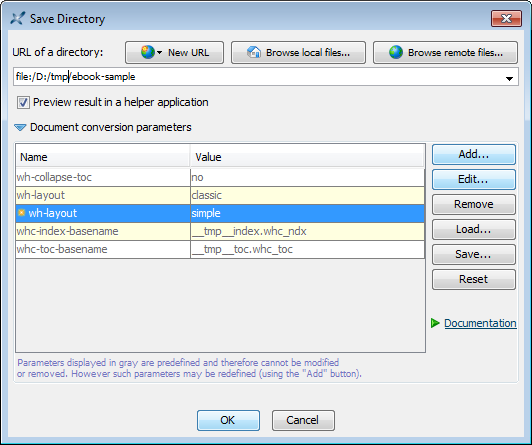 In the above screenshot (see The "Document conversion parameters" panel), the user specifies that she/he prefers a simple layout rather than the classic layout for the Web Help she/he is generating.
However it's also possible to customize the content of the ebook you'll generate by setting a number of attributes of the root book element of your ebook specification. For example, parttocdepth="100" instructs ebookc to automatically generate a Table of Contents at the beginning of each part of the book.